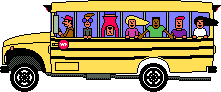 Transportation
The current bus schedules are now posted. Schedules are current as of 8/9/2017. The schedules can be viewed under Transportation by clicking on the Bus Schedules tab.
Please see the Adjusted Bus Stops for Friday May 18, 2018 posted 5/17/18.
** Please note that these bus schedules are subject to change **
Please check this site frequently for updates on the most current schedules and routes. The date and time of the most recent posting will be listed below.
Our transportation provider is Student Transportation of America. If you have any bus related questions or concerns, you may talk to the Principal at your school, or you may contact the bus company directly at (203) 729-4500.
Please check this page for the latest Bus Schedule information under the Documents tab. As our district site grows more information will be posted on the transportation page which parents and students should find helpful and informative.