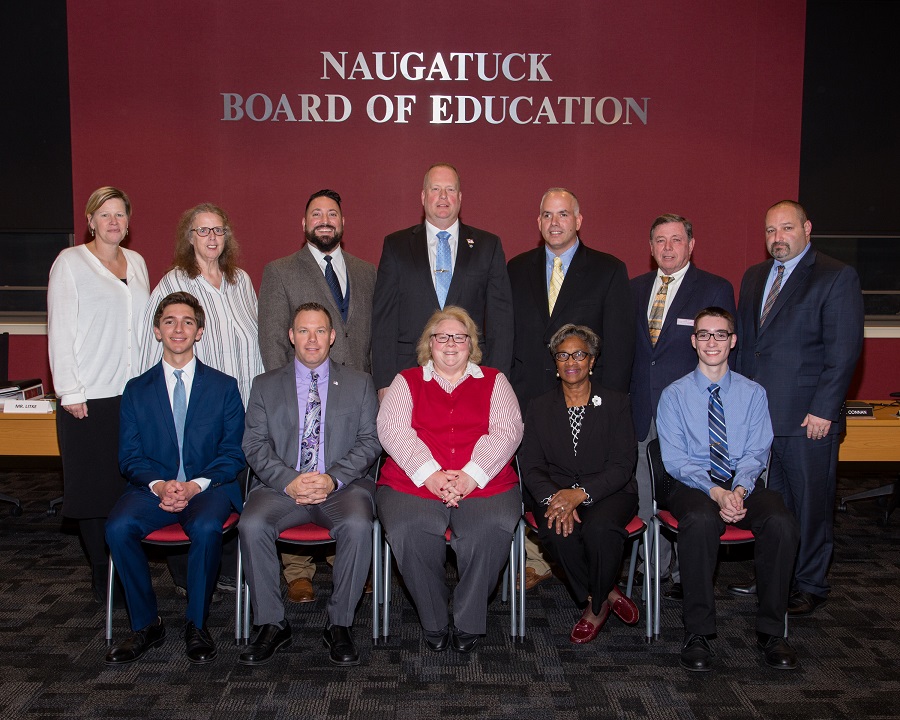 Image courtesy of Rockwell Studio.
Seated (L-R): Student Representative Ben Wierzbicki, Jeffrey Litke, Dorothy Neth-Kunin, Ethel Grant, Student Representative Raymond Lucarelli. Back Row (L-R): Superintendent Sharon Locke, Diana Malone, Jason Celozzi, Scott Slauson, Glenn Connan, James Scully, Assistant Superintendent Christopher Montini.
Board Leadership Award
Naugatuck Board of Education was awarded the 2016 Honorary Award for Naugatuck Board of Education Budget.

Connecticut Association of Boards of Education (CABE) recognized Naugatuck Board of Education in 2016 and 2017 for Board Leadership.

The Connecticut Boards of Education (CABE) recognizes boards which provide effective leadership to their districts through the use of good practices. This awards program acknowledges the importance of school board members and superintendents working together as effective teams. Superintendent Sharon Locke congratulated the Naugatuck Board of Education at the November Board of Education meeting for being awarded the Connecticut Boards of Education Board of Leadership Award – Level I. This award recognizes Boards which work effectively together in focusing on student achievement. To be eligible for this award, the Board must have achieved Level I distinction at least twice in the past four years.

In addition, the Naugatuck Board of Education won the CABE 2016 Honorary recognition Contest for its Budget Book.

These awards were formally presented at the CABE Leadership Awards Reception at the CABE / CAPSS Convention

on Friday

, in November at the Mystic Marriott Hotel in Groton.